Function Abbreviations used in this article:
Fi = Introverted Feeling
Fe = Extraverted Feeling
Ni = Introverted Intuition
Si = Introverted Sensation
Many people seem to be under the assumption that Fi is not an important function for INFJs. The reason for this is because of the Myers-Briggs type code convention, which has Fe as the preferred form of feeling for INFJs. While it may be their preferred form of feeling, it doesn't mean that the INFJ personality type is not greatly affected by Fi. Fi is not accounted for in the INFJ because of the concept of the function stack that only takes into account four of the eight possible functions. What happened to the other four? I seek to address how Fi manifests in the INFJ in this article by discussing INFJ behavior that can only be typified by Fi and by citing a few examples of famous INFJ characters from fiction.
INFJs are commonly described as having a special capacity to read people being able to see into the deepest recesses of their character to decipher their motivations. The INFJ is frequently described as empathetic, which means they have the ability to inhabit another person's emotional being and know what they are feeling, even if this other person gives no visible outward signs of these feelings.
These abilities could be partly ascribed to the dominant Ni process of the INFJ type, and it is true that it does have a part in this, but this ability of the INFJ to read into a person's inner nature is Fi in nature too.
Fi assumes the position of the id function in an INFJ. The id function represents a process that is strong but regressive in nature. INFJs are very strong in Fi but it threatens to pull them back into a state of infancy.
A very instructive example of the INFJ caught in a regressive Fi down spiral is illustrated in a literary work by Fyodor Dostoevsky called Crime and Punishment.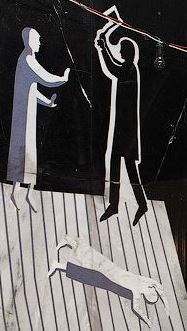 The main character in this novel, a young man named Raskolnikov, presents a striking example of an INFJ in disintegration via their id function of Fi. The novel is basically a story about a young man that is a student in university but who lives a very marginal and isolated life in poor conditions. He is very introspective and given to ideas rather than taking care of the practicalities of existence. He becomes possessed by a fixed idea, which is whether he is capable of committing murder with the same moral impunity as the great conquerors of the world had done. The whole story of this young man hinges on the central act of murder that Raskolnikov plots and carries out. The rest of the story deals with Raskolnikov's conscience post-murder.
I highly suggest reading this masterful novel
if you wish to gain a better understanding of the id of an INFJ. It was written by a man who was no doubt an INFJ (the author – Fyodor Dostoevsky) and as a portrayal of the way an INFJ thinks and feels when in the throes of Fi id, I can think of no better instance in all of literature.
In some senses, the Fi function is the strongest function in the INFJ makeup. The INFJ is built on a base of Fi similar to the way in psychoanalytic theory that the ego is built on the id. The dominant function would be analogical to the ego in this example. Because of the importance of the id in psychoanalytic theory, you can see why Fi would be a potent function in the totality of the INFJs psyche.
Another fine characterization of an INFJ type in the throes of their Fi id occurs in William Shakespeare's play Hamlet.
Hamlet, the main character in the play, is overwhelmed with grief at the death of his father and the remarriage of his queen mother to his uncle. He senses there is something amiss in this whole situation but he can't quite pinpoint it. Hamlet is in such a state of despair that he ponders taking his own life, which is dealt with in the famous "to be or not to be" monologue of his.
If nothing else, make an attempt to read through this monologue to get a flavor for Fi in an INFJ.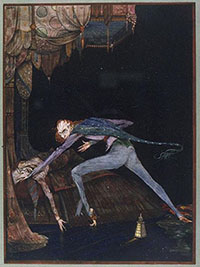 Another instance of this characteristic Fi in INFJ takes the form of a monologue in The Telltale Heart by Edgar Allen Poe. Because this is a monologue and is thus one character talking to themselves, it gives a good insight into the thought processes of an INFJ in Fi disintegration. It is colored with guilt and thoughts of being found out for the terrible things the INFJ has done. Most INFJs aren't murderers but this applies in a less extreme way to other terrible acts that the INFJ feels they have committed. This is the source of INFJ torture, where they make their own hell for themselves because they haven't been good enough in some way.
It is typical of INFJs to descend into this function when they have been locked in introversion too long via their NiTi loop otherwise known as tertiary temptation which I detail in another article.
It is important to take this function into account in the INFJ because it will aid in accurately identifying people of this type. If you are only looking only for INFJs that are demonstrating the extraverted form of feeling, then you are going to be missing large swathes of INFJs because many of them show little to no Fe in their expression. This doesn't mean they shouldn't, as this function is the one that would allow them to drain the poisonous Fi that collects in their psyche, but many INFJs don't. I think this is because of some misunderstanding about the so-called auxiliary function in the Meyers-Briggs system. I agree that it is the function that is most able to assist the dominant function's aims, but in practice, the auxiliary function is often bypassed in favor of the tertiary function, which is introverted thinking for an INFJ. This leads to a double introversion for the INFJ, a locking into a fixed attitude in which the two introverted functions cycle back and forth between each other, effectively locking out any outside input from an extraverted function. This cycle leads to an eventual fall into the introverted feeling function. If they continue to stay locked in introversion, they eventually cycle even further down into the introverted sensation function, which is extremely unpleasant for an INFJ. Being here for the INFJ is like being in the grinding gears of the machinery of the world. It is like burning through everything and just ending up in a place of absolute meaninglessness. When an INFJ ends up here they are likely to be almost catatonic and completely horrified by all existence. This is what happens when they introvert too much and can't get out of it. They go deeper and deeper until they reach a place where they literally can't exist.
However, cycling into Si is beyond the scope of this article, and in any event, comparably rare, except in times of extreme distress for the INFJ.
INFJs are made out of the stuff of introverted feeling at a deep level. It can be felt all around them but nowhere in particular. It is what gives INFJs their characteristic emotional depth, which certainly doesn't come from Fe. Go read about Fe somewhere and tell me where it says anything about depth of emotion. Neither does Ni account for this emotional depth because INTJs are not emotionally deep and they also possess Ni as a dominant function. INTJs disintegrate through Ti, which is their id function, but that is another story. Can you say schizophrenia?
Yet another work of fiction that helps paint a picture of the Fi id in INFJs is from the movie The Neverending Story. There is a scene in that movie where the character known as Atreyu is crossing the swamps of sadness with his horse named Artax. Artax suddenly stops in the midst of the swamps and won't budge. Meanwhile Atreyu is talking to him in soothing tones insisting that he must overcome the pull of the swamps and keep going. Artax then slowly starts sinking into the mud of the swamps while Atreyu is wildly pulling at his reigns with all his strength and yelling at him to overcome the downward pull of the swamps. Artax can't muster the will to move from that spot in the wake of the overwhelming sadness he feels. He sinks into the mud until he is covered over and dies.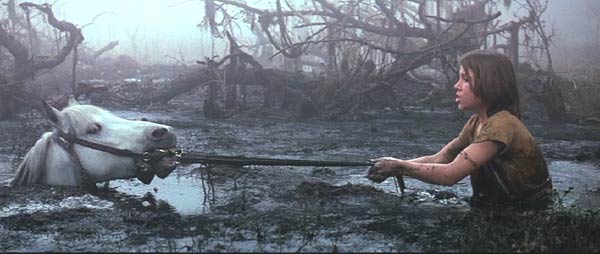 Fi in INFJs is the danger of losing the will to live because of the overwhelming sadness that they feel deep inside. This is Fi in its most complete negative manifestation as a collection of all the terrible feelings in existence. It is also the key to why INFJs, in their highest instances, are so good at creating extremely moving works of art. Fi for the INFJ is guilt, shame, fear, hatred, sadness, loneliness, desire, hunger, rage, anger, existential annihilation, and so on.
The id function for any type is something that it is good at but it is simultaneously undermining. The antidote to this is the same as for the lock into tertiary temptation; the auxiliary function. It is amazing what happens when a type really learns to use their auxiliary function because it is the one function that simultaneously heals all the problems involved with locking into the attitude orientation of the dominant function while also allowing one to shine like a beacon in the tumult of humanity. Paradoxically, both the tertiary and the id function will manifest beautifully if one ignores them and focuses on the auxiliary function.
For INFJ, all the negative emotional experience that they have collected over the years will begin to be resolved the moment they attempt to express them in some medium (instead of trying to figure them out, ponder the significance of them or talk themselves into why they must be such bad people because they have all this emotional negativity). Fe is an opportunity for the INFJ to express the depth of their feelings similar to how a spout provides an outlet for a container to pour out its contents. If they don't open the spout, the feelings build up, ferment and become poisonous. INFJs are primed to be collectors or containers of negative emotional experience. They often attract them unconsciously to themselves by acting as people's confessors. These feelings quietly fill them up until they become more and more weighed down with all the vagaries of existence. With just a little conscious will, they could just as easily begin to drain themselves via Fe, which in contradistinction to their experience of Fi, is a complete joy to them.
Oh, how good it feels for to an INFJ to express themselves, to begin to put words, or sounds, or pictures to this pain. And that is how INFJs use Fe, not in the main sense, but as a way to encase their pain and make it intelligible to other's common sensibilities. Again, this is the real key to why INFJs can be so affecting, because they use Fe to put into common feeling standards the experience of this very subjective emotional pain that occurs through Fi. They have a gift for universalizing their suffering. Isn't that enough of a reason to want to live right there? You get to tell the rest of the surface dwellers how much your heart has been broken by the world and they will applaud you for it. The key is really to flow and not to congeal, not to let the emotions pool up too much.
It is your job as an INFJ to bale water out of a leaky boat faster than the water is coming in.
But, when you are trapped in the swamps of sadness, it doesn't matter what anyone says or screams at you. Your will is paralyzed by the horror of existence and in those moments you can't find a reason to go on. So, if you are an INFJ, or think you might be one, express yourself. I know this will sound unbearably superficial if you are in the throes of your id, but nonetheless, any effort in this direction will start to save you. You can give up the whole search for moral perfection or berating yourself for your failure in this sphere. You are not here to be morally perfect. That is the INFPs job. You are here to tell of the descent into the depths of human despair. Magically, in doing this, you will be delivered to your version of heaven.
Related Articles:
Tertiary Temptation in INFJ
INFJ: Least Likely to be Who You Think They Are
INFJ vs. INFP
INFJ vs. INTJ
---
I am a participant in the Amazon Services LLC Associates Program, an affiliate advertising program designed to provide a means for sites like Stellar Maze to earn advertising fees by advertising and linking to amazon.com.